/
/
/
Letter from the District President
/
Letter from the District President
---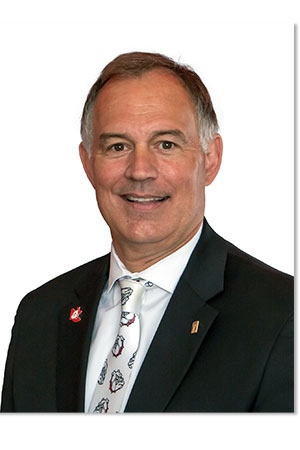 Dear Bulldogs,
Welcome! We are proud that you have chosen Navarro College to be a part of your educational journey to prepare yourself personally and professionally for success. Our nationally recognized professionals and programs provide structure, support, and an outstanding education that empowers individuals to change their lives as they prepare for a career.
Navarro College offers an array of educational pathways designed to provide you with the skills, knowledge, and learning experiences to successfully achieve your educational aspirations and prepare for the world of work. As a customer-focused institution dedicated to our values of integrity, diversity, innovation, student-centeredness, and accountability, our staff are team-oriented and sincerely committed toward your student experience! Navarro College is a place where people of all ages and from all backgrounds and cultures meet to participate in one of the most satisfying and enhancing learning experiences available in Texas.
We look forward to serving you! Navarro College offers a unique opportunity, and we invite you to engage with us on a daily basis to create your memorable and lasting opportunities.
As we pursue our vision to be nationally recognized with a commitment toward your success, we are investing in you, our people, and our resources to achieve these outcomes. With that in mind, we are so glad that you choose to be a part of that vision!
With Bulldog Pride,
Dr. Kevin G. Fegan
District President